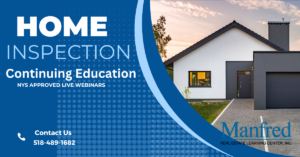 Home Inspector Continuing Education in Queens, NY
About Manfred Real Estate Learning Center
Manfred Real Estate Learning Center is a premier education provider offering top-notch home inspector continuing education courses in Queens, NY. With a team of experienced instructors and a comprehensive curriculum, we strive to provide the best learning experience for aspiring and experienced home inspectors.
Our Services
At Manfred Real Estate Learning Center, we offer a wide range of services to cater to the needs of home inspectors in Queens, NY:
The Process
Our process is designed to ensure that you receive the highest quality education and support:
Registration: Sign up for the desired course or program through our website or by contacting our friendly staff.
Course Delivery: Attend interactive classes led by industry professionals who are passionate about sharing their knowledge and expertise.
Evaluation: Participate in assessments and exams to evaluate your understanding and progress.
Certification: Upon successful completion of the course or program, you will receive a certificate recognized by NYS Division of Licensing.
Continued Support: We provide ongoing assistance and resources to help you stay updated with the latest industry trends and regulations.
Benefits of Our Home Inspector Continuing Education
Stay Current: Our courses cover the latest developments in home inspection, ensuring you are up-to-date with industry standards and practices.
Enhance Your Skills: Learn new techniques, tools, and methodologies that will help you improve your inspection processes and deliver better results to your clients.
Expand Your Network: Connect with fellow professionals, industry experts, and potential clients at our networking events to build valuable relationships.
Advance Your Career: Our certifications and continuing education courses can enhance your professional credibility and open doors to new opportunities, check our our Members program for directory listings and other business building benefits.
Improve Client Satisfaction: By staying informed and continuously improving your skills, you can provide a higher level of service, leading to increased client satisfaction and referrals.
Frequently Asked Questions
Q: What are the prerequisites to enroll in your continuing education courses?
A: There are no specific prerequisites for our continuing education courses. They are open to both aspiring and experienced home inspectors looking to expand their knowledge and skills.
Q: How long are the courses and what is the schedule?
A: The duration and schedule of our courses vary depending on the specific program. We offer flexible options, including daytime and evening classes, to accommodate different schedules.
Q: How do I register for a course?
A: You can easily register for a course on our website by filling out the registration form or by contacting our friendly staff who will guide you through the process.
Contact Us
If you have any further questions or would like to learn more about our home inspector continuing education services in Queens, NY, please feel free to contact us at 518-489-1682. Our dedicated team is here to assist you.
Starting a real estate career? Your market choice matters! [...]
Throughout the homebuying journey, you've invested significant time in [...]
In the dynamic world of real estate, technical knowledge, [...]
What is the Real Estate Salesperson Instructor LED Course? [...]
In today's fast-paced and competitive real estate market, staying [...]