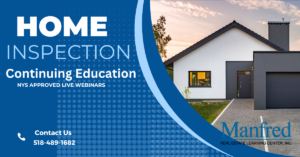 Home Inspector Continuing Education in Albany, NY
Enhance Your Skills with Manfred Real Estate Learning Center
About Us
Manfred Real Estate Learning Center is the leading provider of home inspector continuing education in Albany, NY. With years of experience and a team of industry professionals, we offer comprehensive courses designed to help you stay up-to-date with the latest regulations and trends.
Our Services
Continuing Education Courses for Home Inspectors
Real Estate Licensing
Membership: Unlimited Continuing Education
The Process
Choose a Course: Browse our wide range of continuing education courses tailored to meet your specific needs.
Register: Sign up for the course that interests you and select a convenient date and time, daytime and evening, for your training.
Attend Classes: Attend the engaging and informative classes delivered by our experienced instructors in 4 or 8 hour modules.
Earn Your Certificate: Successfully complete the course and receive a certificate of completion, recognized by NYS Division of Licensing.
The Benefits
Stay Updated: Our courses ensure you are aware of the latest regulations and industry best practices.
Enhance Your Skills: Learn new techniques and strategies to excel in your home inspector career.
Network: Connect with fellow professionals and expand your professional network.
Career Advancement: Our courses can open doors to new opportunities and career growth.
Frequently Asked Questions
Q: What are the prerequisites for enrolling in your courses?
A: To enroll in our courses, you must be a licensed home inspector in Albany, NY.
Q: How long are the courses?
A: Course durations vary depending on the topic. Our courses range from 4 to 8 hours.
Q: Are your courses accredited?
A: Yes, our courses are accredited by NYS Division of Licensing.
Q: Can I take the courses online?
A: Yes, we LIVE Webinar online courses to accommodate different schedules.
Q: How much do the courses cost?
A: Course fees vary depending on the duration and topic. For the best bang for your buck, check out our Manfred Membership.
Throughout the homebuying journey, you've invested significant time in [...]
In the dynamic world of real estate, technical knowledge, [...]
In today's fast-paced and competitive real estate market, staying [...]
If you want to improve your brand, you need [...]